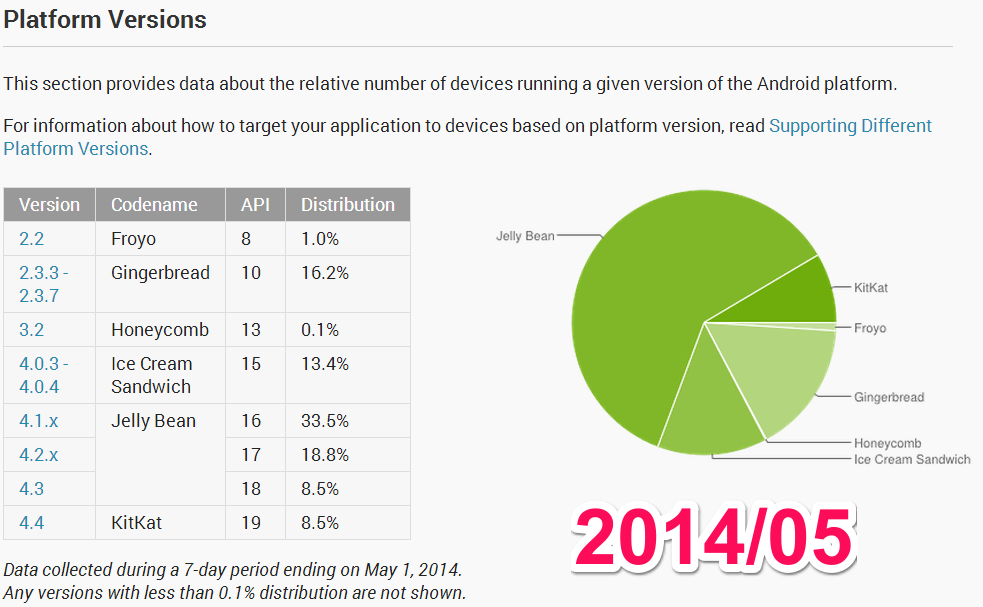 2014年5月1日時点のAndroid Platform バージョンの割合
Version
Codename
API
Distribution
Delta
1.6
Donut
4
0.0%
0.00%
2.1
Eclair
7
0.0%
0.00%
2.2
Froyo
8
1.0%
-0.10%
2.3 – 2.3.2
Gingerbread
9
0.0%
0.00%
2.3.3 – 2.3.7
10
16.2%
-1.60%
3.2
Honeycomb
13
0.1%
0.00%
4.0.3 – 4.0.4
Ice Cream Sandwich
15
13.4%
-0.9%
4.1
Jelly Bean
16
33.5%
-0.90%
4.2
17
18.8%
0.70%
4.3
18
8.5%
-0.40%
4.4
KitKat
19
8.5%
3.20%
Data collected during a 7-day period ending on May 1, 2014.

Any versions with less than 0.1% distribution are not shown.
Note: Because this data is gathered from the new Google Play
Store app, which supports Android 2.2 and above, devices running older versions are not included.
However, in August, 2013, versions older than Android 2.2 accounted for about 1% of devices that
checked in to Google servers (not those that actually visited Google Play Store).